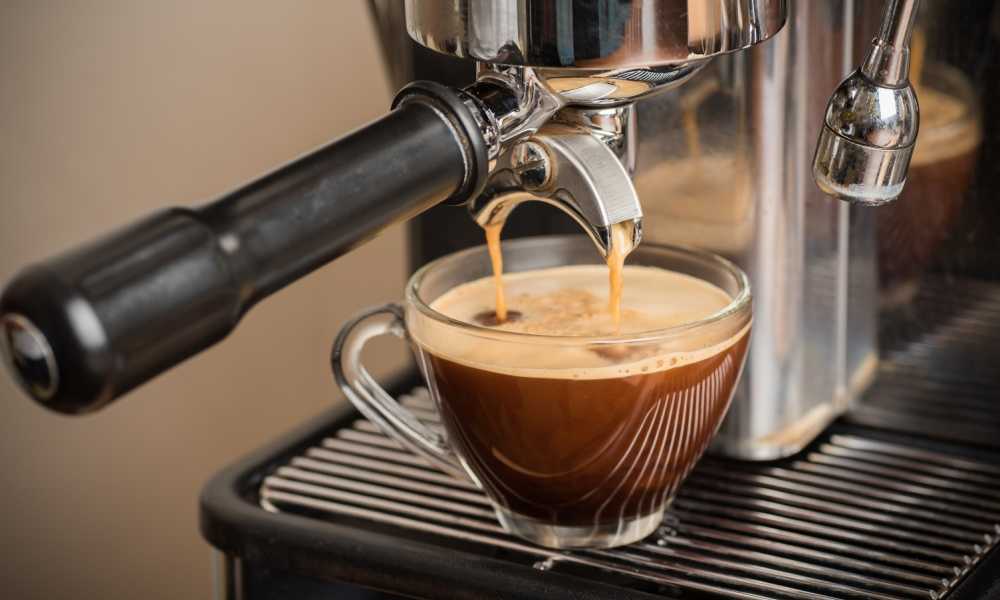 Many consider espresso to be the best type of coffee. Making a delicious espresso is an art, with a bit of science too. You need a lot of practice and great technique… and the right equipment, of course.
To make the best espresso, you need a proper espresso machine with consistent temperature and pressure.
It also needs commercial grade parts – and this comes at a price. So you are probably wondering, why are espresso machines so expensive?
Espresso machines brew coffee by pushing hot water through the ground coffee beans and the filter to make a rich, thick, full-bodied, concentrated black liquid called espresso.
History of espresso machines
The first espresso machine was built in 1884 in Italy by Angelo Moriondo. In April 1903, Luigi Bezzera improved on the design and patented the machine. From 1905, a company called La Pavoni began producing espresso machines in Milan on a smaller commercial scale.
What is an espresso machine?
There are a variety of machines that are designed to create espresso. Most of the machines share similar elements, including a portafilter and a group head. Espresso machines also have steam wands which are used for steaming and frothing liquids like milk that are then used in coffee drinks including cappuccinos and cafe lattes.
Espresso machines can be steam, pump, piston, or air-pump driven, and can be manual, semi-automatic, or automatic.
Moka pots, which are often referred to stovetop espresso makers, work similarly to traditional espresso machines as they brew the coffee using pressure. Some coffee enthusiasts also think that stovetop espresso is similar to espresso made in a traditional machine.
However, stovetop espresso makers being characterized as espresso machines are often debatable. As such, because of the steam and pressure used for brewing, they're accepted as espresso machines within the broader use of the word. They are still separated from the standard, traditional espresso machine though.
Check out this Cheap but Quality Espresso Machine from Amazon


Espresso Machine 3.5 Bar 4 Cup Espresso Maker Cappuccino Machine with Steam Milk Frother and Carafe | $59.99
Buy on Amazon
Features of espresso machines that affect cost
When you consider buying a traditional espresso machine, there are four features that will define which category the machine is placed in. The features also influence the cost of the espresso machine significantly.
Below are the four features that affect the price, in cost impact order.
Quality
The cost of a commercial espresso machine is significantly increased with the use of stainless steel, metal, and brass. Top quality espresso machines are designed to have stable brewing temperatures. Many manufacturers cut the cost of their espresso machines by using different materials in the body, frame, and internal parts. While materials like industrial plastic used for siding won't impact the quality of your espresso, the weaker framing may, as it holds the group heads and other components in place. Other factors, such as the brass quality used in the group heads may cause the temperature to change abruptly. If you want high quality at a lower cost, you can select a semi-automatic or manual machine.
Digital display
The digital display on traditional espresso machines simplifies the brewing process. Machines that have digital displays have superior levels of temperature constancy and stability and are made with high-quality materials. The display has useful tools such as pre-infusion delay, shot timers, on and off programming, water temperature adjustment, cleaning programs, filters placement prompts, and equipment diagnostics.
Brewing temperature adjustment
Traditional espresso machines are made with a temperature adjuster and controller for the boiler. For those who want more control over the brewing temperature to avoid temperature variations, this feature is for you. Traditional machines are available with several operating styles, and you can lower the cost of the machine based on which you select.
Temperature adjustment – individual groups
Some espresso machines are made with advanced temperature adjustment control, which allows for the brewing of individual groups. This is a brilliant feature for those who want total control over the machine's brewing temperature, serve more than one roast of coffee, or those wishing to profile coffee. Espresso machines with this feature usually have a distinctive design, many barista controls, digital display, and are made with top quality materials. With this feature, you don't have much range in terms of cost.
So why are espresso machines so expensive?
The answer is really simple – espresso machines are used to showcase the character and quality of a coffee bean's flavor. In order to do so, the correct equipment needs to be used, the proper pressure, pumps, features, and technique.
Typically, the more an espresso machine costs, the better quality coffee you will be able to make. Unfortunately, based on all the parts needed and the features that are installed, there aren't many cheap machines that can do a proper job.
FINAL VERDICT
Making espressos is a skill that is widely underappreciated. With the right espresso machine, a bit of patience, and some skill development, you could be steaming your way to espresso lane.
Spending money on the machine that will make your espressos should not be a grudge purchase, as it can make all the difference in the coffee world.
More Quality Coffee Espresso Machine from Amazon
Sale
Bestseller No. 1
Espresso Machine 3.5 Bar 4 Cup Espresso Maker Cappuccino Machine with Steam Milk Frother and Carafe
EASY TO USE - Single switch knob with indicator light for easy operation with function transform-coffee/steam selector and on/off. Also, accurate temperature control can ensure the best taste
COMPACT DESIGN - The stainless steel compact design of the espresso coffee machines saves lots of space, smaller and lighter. The removable, washable drip catcher collects coffee drips and keeps brew space tidy, best for home and kitchen use
YOUR FOAM, YOUR WAY - Coffee espresso machine with frothing arm makes creamy froth to top off your cappuccinos and lattes. Velvety smooth espresso will make mornings so much better
BREW LIKE A PRO - Powerful 3.5 bar pressure espresso coffee maker can make 1-4 cups (240ml) espresso coffee and rich smooth cream. Easy-pour glass cup is clearly marked to serve the perfect amount every time, delivers a truly rich espresso in just seconds
WHAT YOU GET: 1 x Steam Espresso Machine, 1 x Filter and Funnel, 1 x Spoon, 1 x Carafe, 1 x Manual. Tips: Screw tightly all the parts for safety using
Bestseller No. 2
Espresso Machines 15 Bar Coffee Machine with Milk Frother Wand for Espresso, Cappuccino, Latte and Mocha, 1.5L large Removable Water Tank and Double Temperature Control System, Blcak, 1100W
✔【DIFFERENT FLAVORS OF COFFEE】: Semi-Automatic 2-in-1 Espresso Coffee Maker with milk wand, whatever your preference, Choose your strength with Classic Espresso, Cappuccino, or producing steam to heat liquids or beverage. The Steam Wand can be used to make hot beverages like drinking chocolate, water or tea.
✔【ENSURE THE BEST FLAVOES】: 15-bar is the standard pressure to brew rich-tasting espresso, with the high-pressure pump, water pressure instantly through the coffee powder, which is ensure the high quality of espresso every time.
✔【PROFESSIONAL MILK FROTHING WAND】: Frothing milk for cappuccino and latte by hot steam want. The professional frothing wand mixes steam and milk in order to create a rich, dense and creamy froth for every drinks.
✔【DOUBLE TEMPERATURE CONTROL】: Adjust the temperature of water and milk foam respectively, so that the taste of coffee and milk foam can reach the ideal state. Double volume boiler can create more hot water and steam. 1.8L large capacity water tank which can hold enough water for brewing.
✔【PROMISE & SERVICE】: Consumers will get TWO-YEAR Promise of this Espresso Machine. If you have any problem of this machine, Please feel free to contact with us, we will give you the best solution as soon as possible.
Bestseller No. 3
Yabano Espresso Machine, 3.5Bar Espresso Coffee Maker, Espresso and Cappuccino Machine with Milk Frother, Espresso Maker with Steamer
Easy Operation - Yabano steam espresso machine is very easy to use, for beginner without requiring much techniques and skills. It can make up to 4 cups espresso coffee at the same time, serving delicious espresso, cappuccinos and lattes for yourself, your friends and family
Steam Wand - Yabano espresso coffee maker come with a built in steam wand, You can enjoy cappuccino and latte with creamy and rich foam at any time at home
Compact Design - It's small and compact, doesn't take up much counter space. Dimensions are 13.1" high x 7.7" wide x 10" deep, weight only 4.7 pounds, great for easy handling and storage
Easy to Clean - The portafilter, nozzle and drip tray can be easily removed, makes it very easy to clean
IF you receive defective item or not satisfied with our product, please contact us, we will try our best to help you and give you the best solution. NOTICE: FILTER MUST BE FULLY LOCKED!